LDO 7-Day Chart
Despite the crypto market downtown, LDO is going up not down, at a dramatic rate. This chart from CoinMarketCap.com taken July 16, 2022 at 7:16pm, shows the amazing increase.
Price Doubles in Seven Days
The native token of Lido DAO (LDO) has skyrocketed from a seven-day low of $0.58 to a high of $1.25, marking an increase of 115.52% in just one week.
The 85th-ranked crypto asset by market cap has retraced since and is now changing hands for $1.08.
Lido DAO is designed to build liquid staking services for different blockchains. It allows participants to earn staking awards without having to lock any assets or maintain any kind of staking infrastructure. LDO can be used for collateral, lending, staking and yield farming.
Lido's share of staked Ethereum (ETH) is nearly one-third of the total amount of staked ETH, according to the project's Twitter page.
The project also has about $5.28 billion in total value locked (TVL). The TVL of a decentralized finance (DeFi) protocol represents the total capital held within its smart contracts. TVL is calculated by multiplying the amount of collateral locked into the network by the current value of the assets.
Lido's TVL has gone up 3% in the past 30 days. In comparison, the total TVL across DeFi is down nearly 3% over the same time period.
Additionally, crypto analytics firm IntoTheBlock notes retail interest in Lido is rising.
"Retail Interest in Lido Finance is climbing. Retail holdings of LDO recently reached an all-time, with its price up 70% in the last week."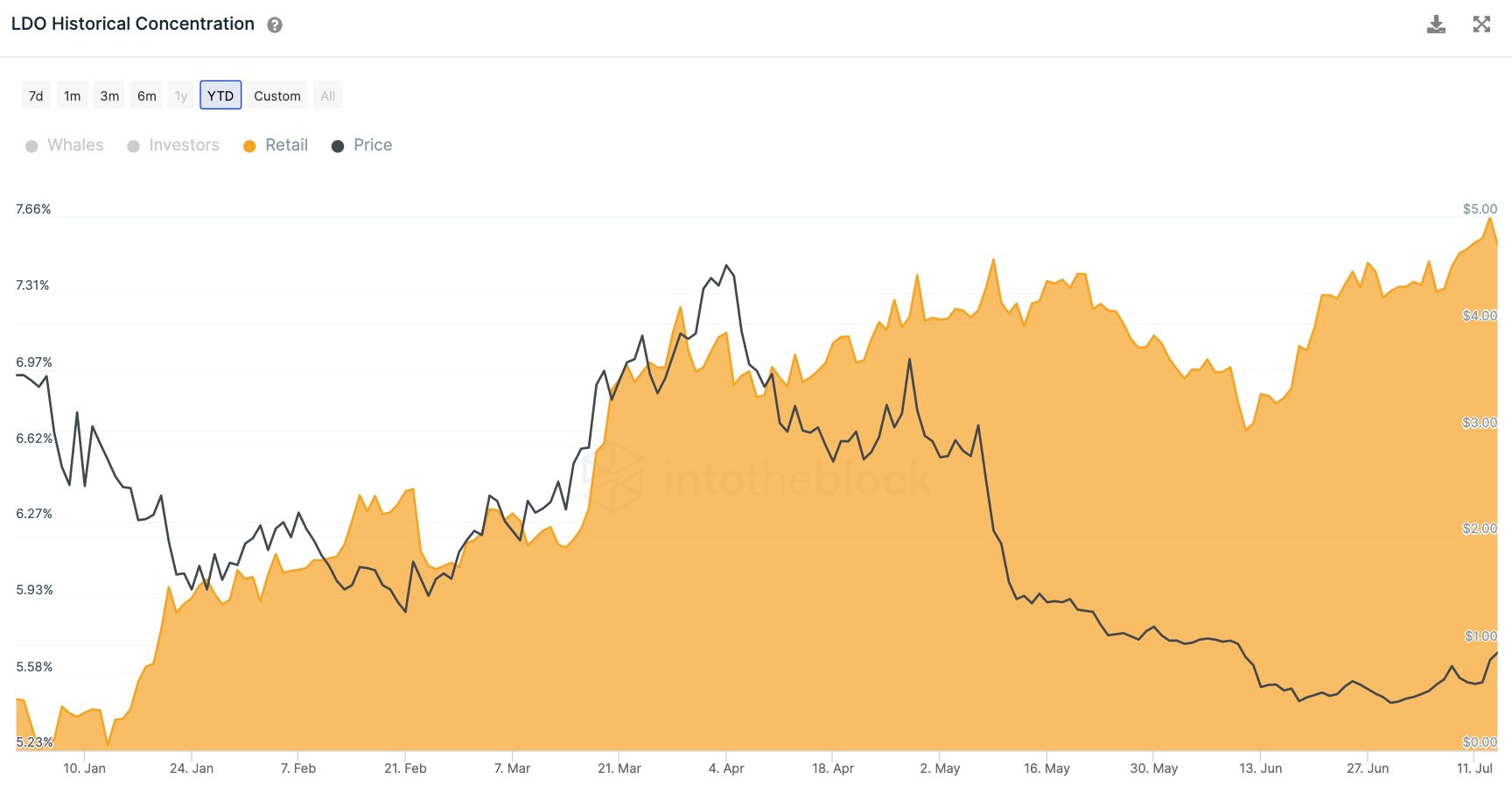 Featured Image: Shutterstock/Elena Abrazhevich/INelson
Via this site.
Disclaimer: Although the material contained in this website was prepared based on information from public and private sources that TELcrush.com believes to be reliable, no representation, warranty or undertaking, stated or implied, is given as to the accuracy of the information contained herein, and TELcrush.com expressly disclaims any liability for the accuracy and completeness of the information contained in this website.