Popular crypto analyst predicts relief is on the way for the crypto industry with two specific coins, ETH and LTC. This is welcome news for thousands of investors around the world.
Ethereum ETC
The popular analyst tells his 643,000 Twitter followers that he's waiting for ETH to recoup some of its losses, and shoot up to around the  $1,300 range.
"Still pretty much waiting for a scenario like this on ETH, in which we most likely retest before continue.
Positive signs coming from the markets past few days, but no continuation as indices are showing weakness (while DXY shows the same)."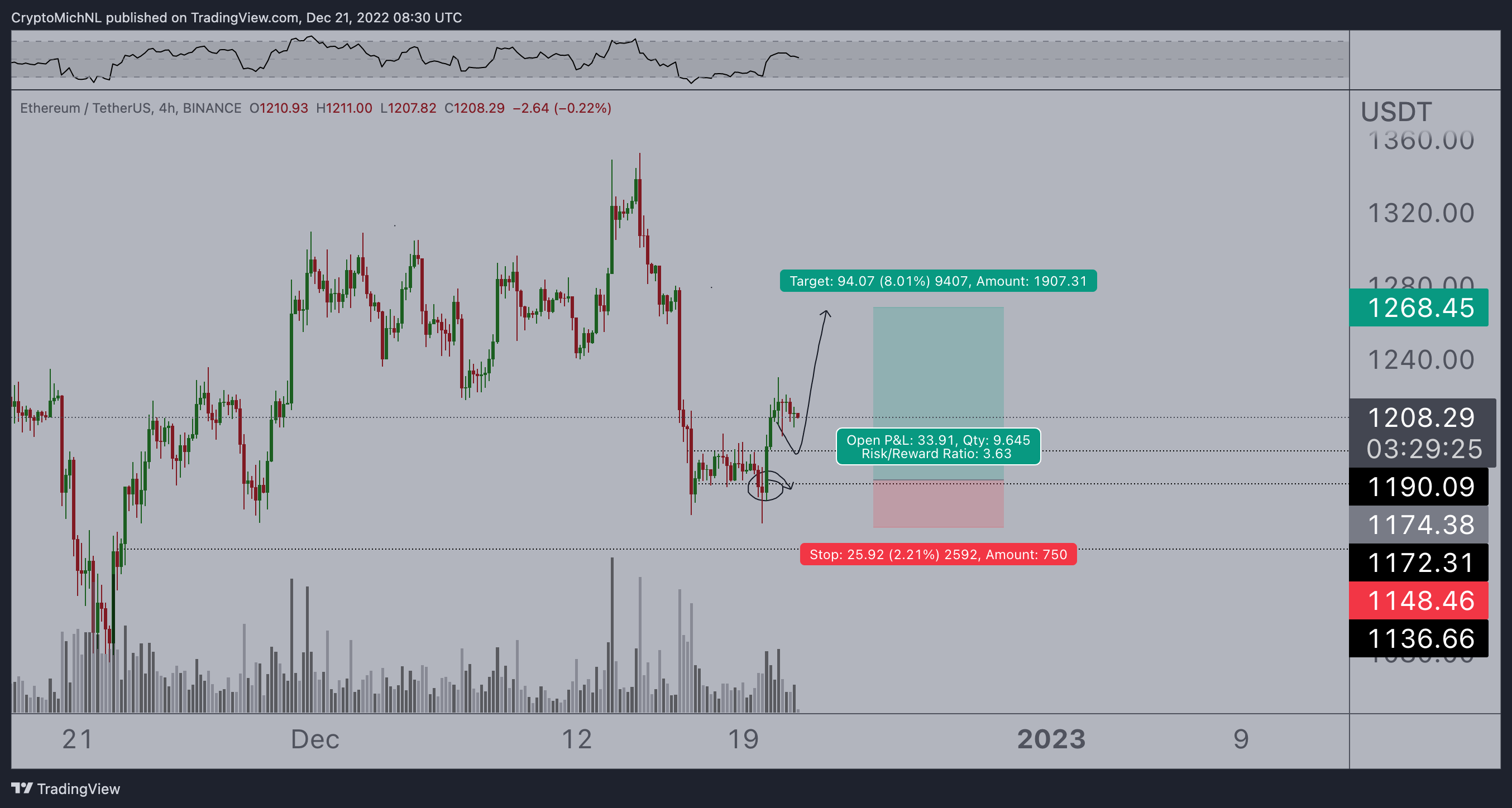 At time of writing Ethereum is trading for $1,199.
The trader also has his eye on FET, the Ethereum-based altcoin that powers Fetch.ai, a decentralized machine learning system that aims to act as a platform for applications that enable things like financial services, smart cities, or gig economy work to operate more efficiently.
Van de Poppe, bullish on FET, says that he's waiting for the altcoin to potentially retrace a further 15% before going long.
"Still waiting for the lower levels to be filled on FET.
Levels I'm looking at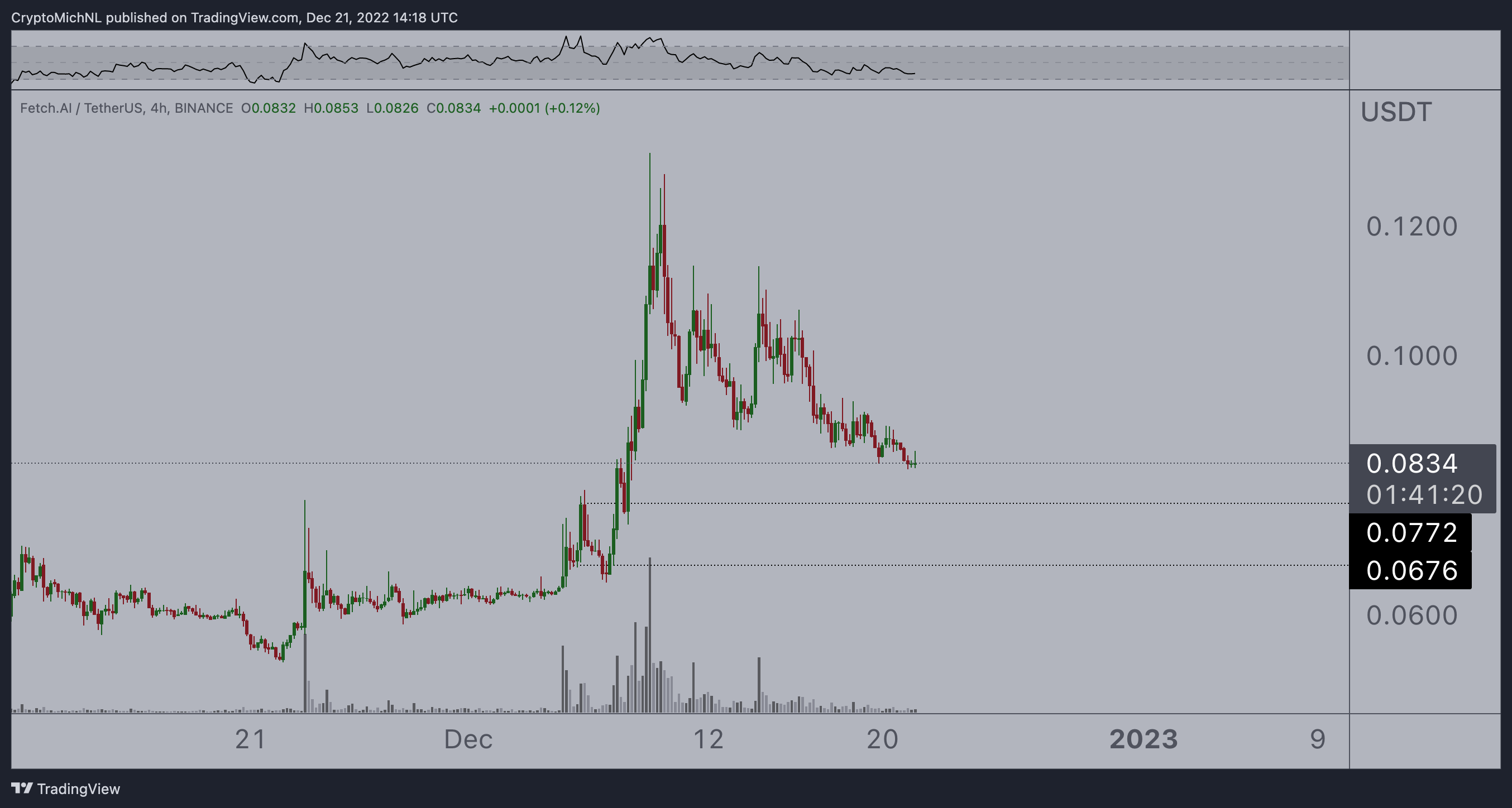 While many in the crypto space are still expecting another wave of liquidations that take markets lower, Van de Poppe says that bears are on their last stand.
"Honestly,
FTX collapsed.
Contagion appears.
Massive flood of FUD appears too.
Binance buying $VGX and bidding on Celsius.
Gemini looking at a tender offer.
I think the bears are in ultra-euphoria at this moment."
Litecoin LTC
Popular crypto analyst Michaël van de Poppe says historical price action suggests that peer-to-peer payments network Litecoin (LTC) is gearing up for an epic surge.
The crypto strategist tells his 164,000 YouTube subscribers that he believes Litecoin is still bullish on the weekly timeframe even after its latest corrective move.
"As a matter of fact, Litecoin is trending upwards. So we've got a nice upward trend for Litecoin. We've got some beautiful levels that we have to monitor on which the weekly level around $63 is definitely a level we should keep an eye on…
When you're looking at a point of interest for Litecoin itself, this entire block ($63) and actually this entire level is an area where you want to start getting your position filled if we want to continue this uptrend. In the case of new rally towards $100, you want to see this level ($63) hold for support and probably receive a bounce towards here ($80). After which, we consolidate and continue making this run."
At time of writing, Litecoin is switching hands for $64.75, down over 23% from its December high of $84.73.
According to Van de Poppe, LTC's recent price action appears to be mirroring its market structure when it bottomed at the end of 2018. The crypto strategist highlights that in December of that year, Litecoin witnessed a 28% pullback before igniting a massive rally.
Van de Poppe says that Litecoin may be in a similar situation and that LTC could continue its ascent once the correction is over.
"This is very comparable to what we saw in 2019 in a price action as well… We did see this sideways action, breakout, came all the way back, taking the lows, sideways action, breakout."
I
Featured Image: Shutterstock/mim.girl
Disclaimer: Although the material contained in this website was prepared based on information from public and private sources that TELcrush.com believes to be reliable, no representation, warranty or undertaking, stated or implied, is given as to the accuracy of the information contained herein, and TELcrush.com expressly disclaims any liability for the accuracy and completeness of the information contained in this website.